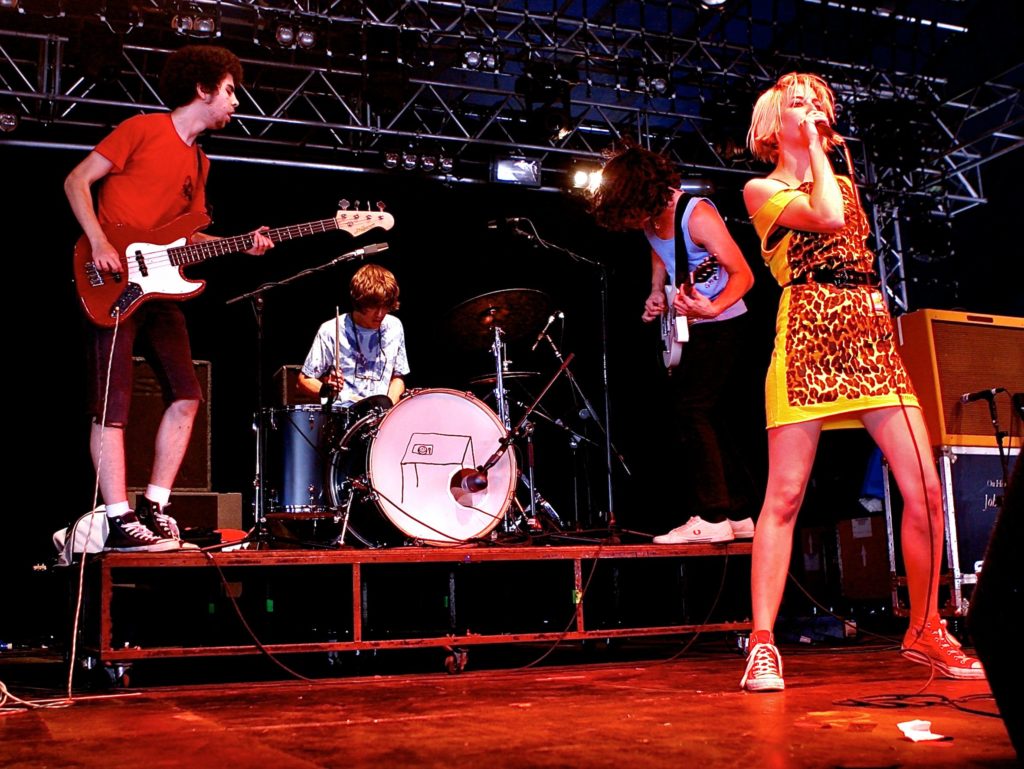 The myth of the "cool baby-sitter…" You know, the one that lets you stay up late to watch horror movies, teaches you about punk rock and the underground DIY scene, tells you stories of drinking beer at weird house parties… was it ever real?
Well, for a few years in the mid 00's, a group of Nashville teenagers who called themselves Be Your Own Pet were the ULTIMATE cool babysitter.
Be Your Own Pet – singer Jemina Pearl, guitarist Jonas Stein, bassist Nathan Vasquez, and drummers Jamin Orral / John Eatherly – had a profound influence on bands of their day and beyond. Pearl's shadow looms especially large, with her ferocious vocal delivery and wild onstage antics.
"We were young and fearless," Stein recalls. "I hardly knew how to play the guitar. After seeing some really great underground touring punk bands and playing live shows at pizza joints and house parties, we had the whole 'we can do that, too' attitude. Our youthful confidence was unmatched at the ripe age of 15. We never knew what was to come next."
Vasquez shares similar recollections of the band's formation – "Meeting at school (Nashville School for the Arts) and joining the band was kind of a dream come true. What came after that far exceeded anything I had in mind though."
Be Your Own Pet's popularity was immediate and intense – the band nearly broke the "hype machine." They were quickly signing deals with tastemaker labels like XL & Ecstatic Peace, gracing the cover of major magazines, giving late-night TV performances, jet-setting to festivals around the world, and opening for everyone from the Arctic Monkeys to Sonic Youth… all while being too young to drink.
But the fact that they were teenagers was besides the point. This wasn't kitsch or cute… this was THE REAL DEAL. That's what was so special about the band, and what legions of kids (as evident in the oh-so-many stage invasions they incited) and older (possibly jaded) listeners connected to.
Their two studio albums – 2006's self-titled debut and its 2008 follow-up Get Awkward – garnered significant critical praise, but also left little time for dealing with the pressures that came along with their newfound fame.
"Things happened very fast, probably too fast," Pearl says. "We played our first show at a pizza place that had all ages shows in the basement, and then less than a year later we were being flown across the country to be courted by labels. It was quite literally a whirlwind and incredibly overwhelming."
Also – perhaps to their detriment – the band really didn't give a fuck what other people expected of them. No, Be Your Own Pet did it their way… the Sid Vicious version, not Sinatra.
When their U.S. major label announced they were removing several tracks from the band's 2nd album due to the lyrical content being "too violent," while also pressuring them to perform at the ill-fitting Warped Tour, and more… the band was pushed past its limits. Taken together, these two events became the eventual nails in the band's figurative coffin.
"I was heartbroken when they cut three songs off the album," Pearl remembers. "The label was worried we would be a bad influence on teenagers… I think being forced to do the Warped Tour really broke us, and all of that was the beginning of the end."
"We were so young," Stein says. "Looking back on the whole experience, part of me feels bad for the young kids we were, playing an adult game. The other part of me thinks 'damn, that was an amazing experience and we really tore some shit up!' We had a good run at it but when it was time to call it quits, we called it."
So after all this time, why come back now after nearly 14 years?
"I've had a Be Your Own Pet sized hole in my heart for the past 14 years," Pearl says, with a fond nod toward her youthful misadventures. "We shared something life-changing together, so to get to go back and do it again as adults feels like coming home."
Or as she once screamed – "When there's no more room in hell, the dead will walk the earth!"