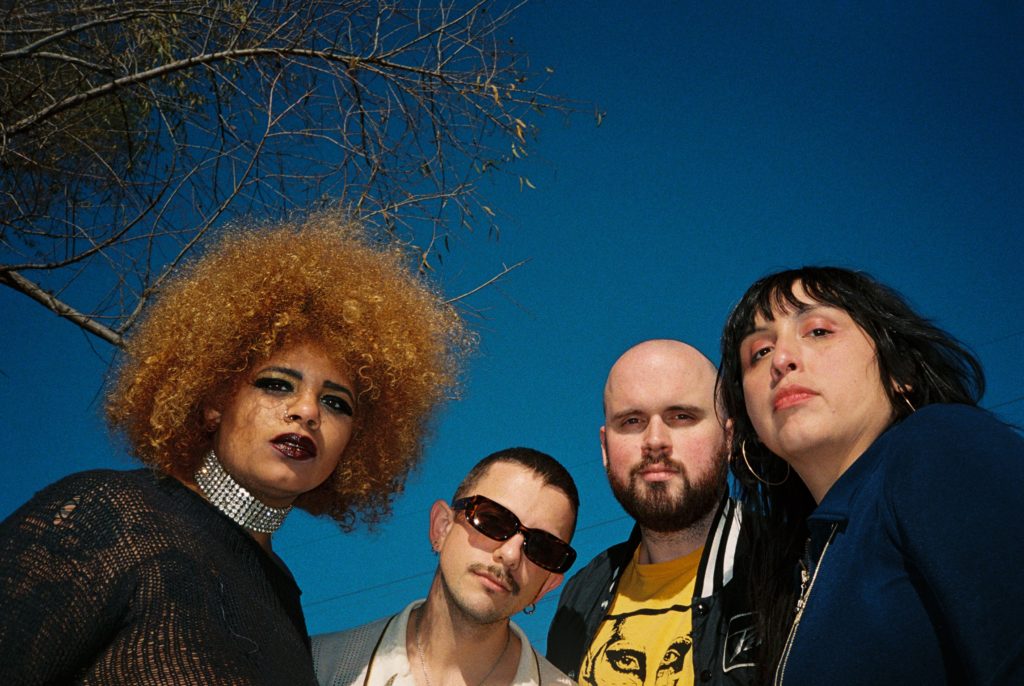 On every level, Special Interest is uncompromising: in their adventurous sound, their high-energy live performances, and their convictions. Dance music and punk culture have flirted in the warehouse before, but Special  Interest's desire to dismantle genre is informed by a larger abolitionist worldview that resists constraint, category, and conformity. Their music is a soundtrack to dancing the pain away as much as raging against the machine.
Brought together by New Orleans' inventive DIY scene, Special Interest finds a new way of defining the"rock band," a true collective unit rather than the dictated vision of a single member. Their sound is ever-fluid and continues to evolve—Special Interest actually began as the duo of Alli Logout and Maria Elena with guitar, drum machine, and a power drill, before Nathan Cassiani and Ruth Mascelli filled out its current line-up.
2018's Spiraling and 2020's widely acclaimed The Passion Of further articulated the group's style, driven by dance grooves and electronic textures as much as hardcore riffs, but Special Interest expands the vision with Endure. The writing of their latest album was informed not just by the bleakness of the pandemic, but the tremendous energy and righteous anger of the summer 2020 uprisings. Endure sets the intensity of that moment—from the gnawing despair of isolation to the euphoria of human contact and connection—to a driving dance floor rhythm.
Special Interest describes the experience of recording Endure as "inverted," since the pandemic obviously stunted the possibilities of live performance, resulting in a new period of experimentation and sonic exploration in which old rules were cast out. Everything the group writes springs from the same source—a hard-hitting drum machine beat—but the possibilities are endless and the outcome is always unpredictable. Ruth Mascelli's work on drum machines and synthesizers provides a foundation, as varying beats lead the group into different directions: rave-ready drum and bass or ballroom-like house on the more dancefloor-friendly cuts, and marching kicks on No Wave-inflected tracks like"Foul" and "LoveScene." "Cherry Blue Intention" brings together a sturdy post-punk bass line, shrieking guitar effects, and a jungle breakbeat into a driving anthem of an opening track.
New songs like"(Herman's)House" recall the art rock of Sparks and The B-52s as much as politically-minded punk, and on "Midnight Legend," the group is more overtly pop than ever before—making something fun during a time of frequent sadness became a central priority. But that doesn't mean anything is simple or surface-level, with darkness often treading beneath the smooth production. For as much as the band plays with dissonance, Maria Elena's expressive guitar work and Nathan Cassiani's grooving bass lines effortlessly weave together, and shade out the soundscape brought into existence by Alli Logout's commanding vocal presence. Collaboration is central to the band's creative process, and it's difficult to imagine even one element from the whole of Special Interest subtracted from the equation. Their songs are living organisms, open to the possibility of experimentation and interpretation, but also not the property or creation of any one person.
Though Special Interest was shaped in New Orleans, there's a universality that reaches far beyond one city. The group directly addresses the issues that surround them, like gentrification
and the impending climate apocalypse. There's a universal resonance to songs like "Concerning Peace,"which takes its hook from a sample of Stokely Carmichael, but Special Interest's music isn't just a call to action. Biting humor and irreverence intermingle with harsh edges of noise, and there's always room to dance and sweat. Within the world of Special Interest, a four on the floor can bring together not just a group of individuals, but disparate styles and sounds into a solid whole.
That duality is embodied by the final lyrics of "L.A.Blues," an extended opus from a group often known for brief blasts: "The end of the world is just a destination that I had to grow to love." Those lines reinforce the album's call to endure, as so many of us fight and struggle to endure in a frequently unwelcoming world. But there's also a second meaning, as New Orleans residents might know "The End of the World" as a make shift park that over looks the Mississippi River. Even as their music transcends borders and adapts into new styles and forms, Special Interest is rooted in a sense of time and place, truly capturing what it feels like to exist in this moment. Just as much as any single musician, the group exists because of the dancing bodies in the crowd, striving to become a truly living collective that dissolves the barrier between performer and listener. Special Interest and their spectrum of sounds is the result of organic connection not just between four artists, but between those four artists and the world around them.
Tour Dates
Date
Details
Venue
City
With
Tickets
11/03/23

| | |
| --- | --- |
| @ | Substance @ Globe Theater |
| | Los Angeles, California |

Substance @ Globe Theater

Los Angeles, California
News
SPIN
"Special Interest's breakthrough sophomore album, The Passion Of, was released in June 2020 — in the midst of a summer that marked nationwide social uprisings and innumerable protests against police brutality and the murders of George Floyd, Breonna Taylor, and Ahmaud Arbery. It was a time laden with intense strife, anger, and grief. The no-wave punk quartet debated whether or not it was the right time to release a new album, but they ultimately decided to do it. People could use it as a motivational soundtrack to fight against the fucked up shit going on, to put it succinctly'
Pitchfork
"In this Rising interview, the New Orleans band discusses the delusions of American exceptionalism and what it means to make radical ideas a reality."
Assets