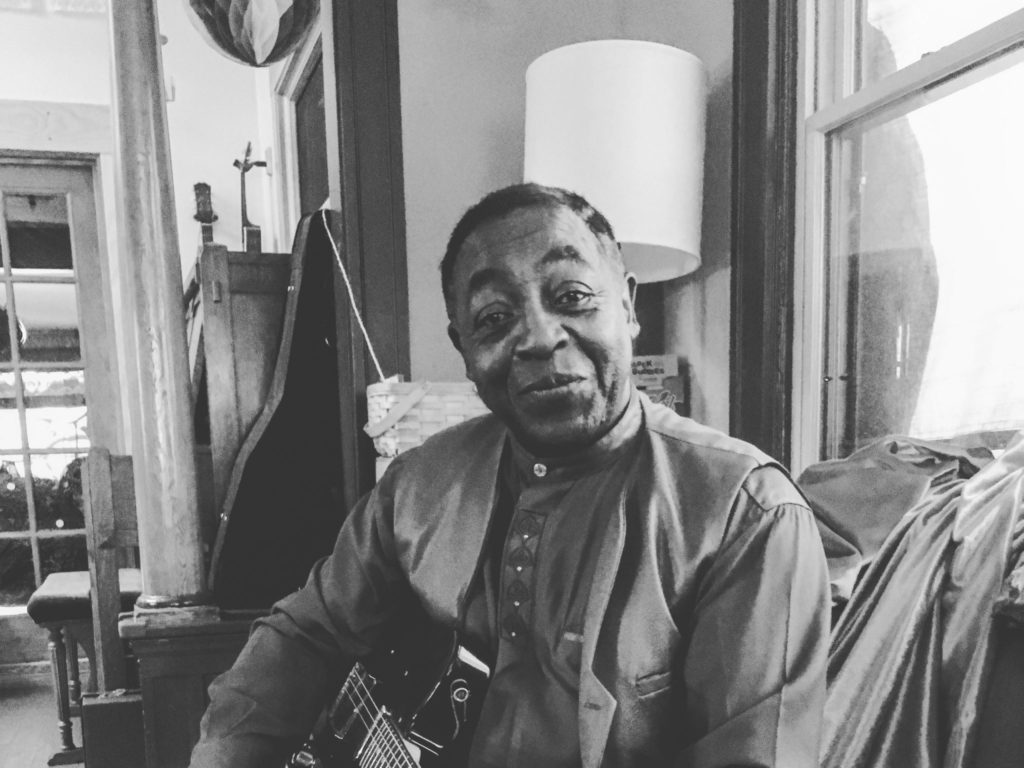 Walking through the residential heart of Portland's Mississippi district, you'll come across a lot that first appears to be a lumberyard. Behind the piles of wood you'll find a charming wooden house under the overcast Oregon sky. Flickers of animated voices and music and laughter become more audible as you approach. After you knock on the door, it opens to the sweet smell of home cooking as warm as the house's visual ambiance. This local landmark is the home of soul legend Ural Thomas built by hand with found materials decades ago. If you wander down the stairs you'll find a practice space the soul man built for neighborhood kids to rehearse on Sundays after church. The basement is overflowing with musical equipment. And everything from the drums to the mics to the amps are set up and ready for you to plug in and play.
When you walk down into the room you may see Portland's Soul Brother Number One at the table chuckling, telling stories and jokes, smoking, and espousing his personal humanist philosophy obtained from 82 years of unfathomable experiences. He's often joined by either his generations of biological posterity or the adopted family that is his band The Pain. You may also find this infinitely magnetic personality ripping through a cover song at full volume or working out a new original with his loved ones.
Though Ural Thomas is universally recognized as one of the most exciting singers remaining from the original soul era, and an active musical institution for over sixty years, his band, all decades younger, are treated as equals. The Pain are no backing band – but rather a well-oiled tightly-knit musical aggregation that's spent the last eight years with Thomas developing a unique sound of its own. The relationship extends beyond the stage and the studio and the practice room. On a given night you may witness the octogenarian soul journeyman turning up at the club with a crew one-third his age at midnight. If you don't recognize him, he's the sharp-dressed man with the charismatic grin out on the floor cutting a rug long after the young folks went home. This love of life and cross-generational relationship is the essence of Ural Thomas and The Pain.
Born in Meraux, Louisiana in 1939, and moving with his family to Portland, Oregon during World War II, Ural Thomas grew up to become Rose City's Soul Brother Number One. Already an established singer in his teens, he became the leader of the wild twistin' rhythm and blues vocal group The Monterays – who achieved regional fame and recorded the canonical single "Push-Em Up" for the local Sure Star Records. His success brought him to Los Angeles where he caught the ear of industry bigwig Jerry Goldstein of The Strangeloves, best remembered for managing Sly and The Family Stone and producing dozens of iconic records by the likes of War, The McCoys, and The Angels (co-writing "My Boyfriend's Back"). Goldstein saw star quality in the young singer and brought him into the studio with arranger Gene Page (known for thousands of recordings with everyone from Aretha Franklin to Elton John to a veritable who's who of Motown stars) to record two landmark 1967 singles "Pain Is The Name of Your Game" and "Can You Dig It" for the MCA pop subsidiary UNI. Around this point Ural also recorded a 1968 live LP for MCA's soul imprint Revue and a 1967 the James Brown-informed proto-funk dancefloor dynamite that is "Deep Soul" with Ron Bruford for Seattle's Camelot label. While none of his sixties singles hit in their time, all four are widely admired and continue to be heard at DJ sets and dance parties worldwide.
Ural Thomas next left Los Angeles to record in Cincinnati at King Records with James Brown's production manager Bud Hobgood. After the two had a falling out, Portland's soul man took a bus to New York City where he was featured more than forty nights at the Apollo. Eventually disillusioned with the industry and missing the communal aspect of making music, by the end of the 1960s he returned to Portland where he established a Sunday night jam session that continued for decades. In 2014 Portland DJ and drummer Scott McGee sat in. They became friends and within months Magee had assembled a full show band that they christened Ural Thomas and The Pain. The new group wasted no time prolifically performing and recording with a frenzy that would've worn out a musician one-fourth Thomas' age – touring the world and releasing four records between 2015 and 2018 (two singles and two LPs).
I remember when I first heard buzzing that the enigmatic Ural Thomas wasn't only still alive and well, but performing in Portland, Oregon. This was big news. So few of soul music's original practitioners of are still among us. Even fewer are still active. And of those, even fewer can still deliver the goods on the same level that made your hair stand on end the first time you dropped the needle on their record. Rumor had it that the complete package of undiminished passion, sweat, wailing, dancing, and banter, the elusive soul man we always seek out, could be found tearing it up in the Pacific Northwest. When Ural Thomas finally made out east to play at my soul revue billed alongside Irma Thomas, Archie Bell, Joe Bataan, and other legends, it was his first New York City gig since his Apollo reign four decades prior. Having previously shared the stage with James Brown, Stevie Wonder, Otis Redding, Etta James, and nearly any star from the hyper-competitive world of classic soul performance, Ural Thomas was not intimidated. He rose to the occasion and was everything I heard and then some – bringing down the house both nights and drenching an entire new generation of New Yorkers in his soul sweat!
And the band played on. Despite the usual COVID-19 obstacles, Ural Thomas and The Pain finally completed and released their much-anticipated third album "Dancing Dimensions." While exploring everything from sweet Chicago soul to airy West Coast psychedelia to Sly funk, their latest collection retains the distinctive sound the band organically developed over years of relentless work. Classic yet unmistakably contemporary at the same time, "Dancing Dimensions" is the most accurate representation of The Pain's unique flavor, power, and musical breadth committed to vinyl thus far.
Assets