Soul Clap & Dance Off Debuts at Brooklyn Bowl This Weekend Featuring Ty Segall as Guest Selector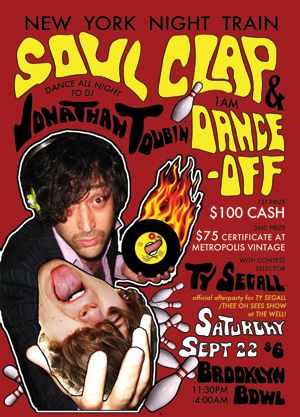 Panache is excited to announce the return of New York's Soul Clap & Dance Off, DJ Jonathan Toubin's most famous soul party. It will be taking place this Sat Sept 22nd at its new residence, Brooklyn Bowl. The event is doubling as the official after party to the SOLD OUT Ty Segall & Thee Oh Sees show at the Well in Brooklyn where 1700+ fans will be going nuts as rock'n'roll history is made.
This weekend's Soul Clap & Dance Off features Ty Segall as the special guest selector. Panache Booking has curated a very interesting cast of judges which include Ryan Schreiber (Pitchfork founder/CEO), Brigid Dawson (Thee Oh Sees), Franck Raharinosy (SPIN GALACTIC / Prince of Ping Pong), Melena Ryzik ( NYTimes ), Mikal Cronin (Ty Segall / Mikal Cronin), and Ko Melina (Dirtbombs/Little Steven's Underground Garage). Winner will be awarded $100 cash prize and get to bask in the glow of being the night's finest dancer. RSVP here.