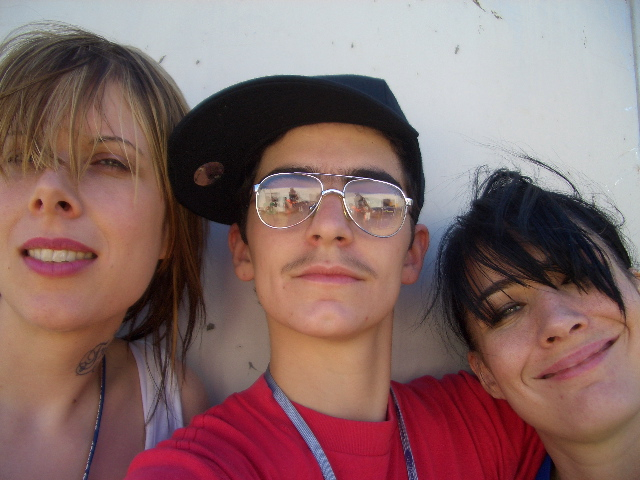 LE TIGRE (Kathleen Hanna, JD Samson, and Johanna Fateman) formed as an obstinately hopeful, even joyous, post-riot grrrl project in New York City in 1999—when Rudy Giuliani was mayor and regressive hipster irony (à la VICE Magazine) ruled. Abandoning traditional punk instrumentation, the band paired drum-machine beats and looped 8-bit samples with the simplest, serrated guitar riffs and call-and-response vocals to write the songs on their first, self-titled album. Released late that year, they conceived of it as music "for the party after the protest."
Though rage had its place in Le Tigre, the band, with celebratory songs such as "Hot Topic"—a shout-out to queer and feminist artistic inspirations (from David Wojnarowicz and Lorraine O'Grady to Catherine Opie and Vaginal Davis)—was a departure for Kathleen; she was best known as the singer of Bikini Kill, whose fans found feminist catharsis in her scorching vocals. "Deceptacon," the lead track of Le Tigre's debut, was perhaps an aesthetic bridge between that seductive register of rage and her new band's dancefloor ambitions. As the critic Sasha Geffen wrote, reflecting in 2019 on the endurance of the song as an underground club classic and radical rallying cry, "Le Tigre's strategy of layering fierce punk vocals over electronic whimsy crystallized into what came to be known as electroclash, a brief but bright-burning aughts microgenre that cleared open space for groundbreaking artists like Alice Glass and Grimes."
The members of Le Tigre, with their backgrounds in visual art and writing, shared a vision for multimedia performance, touring with a slide projector in their early days. Video soon became a key component of their live show (it still is), and they found themselves in a loose network of like-minded artist-musicians—such as Tracy + the Plastics, Peaches, and Chicks on Speed—who paired conceptually-driven performances with a DIY electronic sound.
Le Tigre's follow-up EP From the Desk of Mr. Lady, released in January of 2001, was maybe more raggedly experimental. It included the stuttering collage "They Want Us to Make a Symphony out of the Sound of Women Swallowing Their Own Tongues" and "Bang! Bang!"—a response to recent racist police killings in New York—whose earnest urgency balanced the more sardonic commentary of other tracks. The deadpan "Get Off the Internet!" and its companion treatise on online discourse "Yr Critique" describe the moment's activist malaise, while "Mediocrity Rules," takes aim at a male archetype in the band's indie orbit. (With its "Yabba dabba dabba dude" outro, the song found its way into a Fruity Pebbles commercial, to the band's perverse glee.) In a shift, Johanna's voice stepped to the front on the last three songs mentioned, and in the coming years, her rhythmic delivery and lyrics were featured even more.
JD emerged as a force on the full-length Feminist Sweepstakes (which came out the next October) with her heartthrob persona stealing the spotlight in the campy/sultry "Well Well Well." She sings co-lead, in unison with Johanna, on "F.Y.R.," a sarcastic and despairing litany of political disappointments in the Bush II era. And—in a way that resonated profoundly with Le Tigre's audiences—the particulars of her personal experience are brought to the fore on the album. Memories of a queer childhood echo in the quiet bridge of "Keep on Living," and in "On Guard," a song about street harassment, Kathleen's livid indictment of the "forever beauty pageant I'm always in" is complemented by JD's shouting refrain of the bad-faith question perennially thrown at her: Are you a girl or a boy?
For Le Tigre's 2004 This Island, their first (and only) major-label release, samplers and sequencers were swapped for Pro Tools, and the lo-res, minimalist punk, electronic aesthetics of earlier recordings were incorporated into a bigger sound. But, despite the differences from their previous work, the album continues to develop the band's major themes: protest ("New Kicks"), political disgust ("Seconds"), underdog vindication ("My Art"), queer culture ("Viz"), friendship ("This Island"), and feminist exhilaration ("On the Verge" and "After Dark"). For Le Tigre, the album represented the culmination of their overarching experiment in some ways. It was a difficult, but natural place to stop. Their last year or so together is chronicled—through verité and performance footage—in the 2010 documentary Who Took the Bomp? Le Tigre on Tour, directed by Kerthy Fix.
The band's final show—until their reunion performance for the This Ain't No Picnic festival at the Rose Bowl in August, seventeen years later—was on September 24, 2005, at the Operation Ceasefire concert at Washington Monument in Washington DC, where they joined a coalition of artists calling for an end to the U.S. war in Iraq.
Recently, Kathleen has been touring with Bikini Kill, running Tees 4 Togo (which sells artist-designed T-shirts to fund the non-profit organization Peace Sisters), and writing a book. JD has a full-time teaching position (as Assistant Arts Professor and Area Head of Performance at The Clive Davis Institute at NYU/Tisch), performs with CRICKETS, and tours with the original live score for the film 32 Sounds, directed by Sam Green. Johanna is an author and art critic who writes regularly for the "Goings on About Town" section of the New Yorker and for 4Columns; she is a contributing editor of Artforum.
Tour Dates
Date
Details
Venue
City
With
Tickets
06/01/23

| | |
| --- | --- |
| @ | Primavera Sound 2023 |
| | Barcelona |

Primavera Sound 2023

Barcelona
06/03/23

| | |
| --- | --- |
| @ | Troxy |
| | London |
| w/ | W/ Dream Wife |

London

W/ Dream Wife

06/05/23

| | |
| --- | --- |
| @ | Albert Hall |
| | Manchester |
| w/ | W/ Problem Patterns |

Albert Hall

Manchester

W/ Problem Patterns

06/06/23
Glasgow

W/ Problem Patterns

06/08/23

| | |
| --- | --- |
| @ | Primavera Sound 2023 |
| | Madrid |

Primavera Sound 2023

Madrid
06/09/23

Primavera Sound

Porto
06/11/23

| | |
| --- | --- |
| @ | Le Trianon |
| | Paris |
| w/ | W/ Big Joanie |

Le Trianon

Paris

W/ Big Joanie

06/14/23

| | |
| --- | --- |
| @ | Paradiso |
| | Amsterdam |
| w/ | W/ Chicks on Speed |

Amsterdam

W/ Chicks on Speed

06/16/23

| | |
| --- | --- |
| @ | Huxleys Neue Welt |
| | Berlin |
| w/ | W/ Chicks on Speed |

Huxleys Neue Welt

Berlin

W/ Chicks on Speed

06/17/23

| | |
| --- | --- |
| @ | Markthalle |
| | Hamburg |
| w/ | W/ Chicks on Speed |

Markthalle

Hamburg

W/ Chicks on Speed

07/01/23

| | |
| --- | --- |
| @ | Mosswood Meltdown Festival |
| | Oakland, California |

Mosswood Meltdown Festival

Oakland, California
07/03/23
Vancouver, British Columbia

W/ Who Is She?

07/04/23
Vancouver, British Columbia

W/ Who Is She?

07/06/23
Seattle, Washington

W/ Who Is She?

07/07/23
Portland, Oregon

W/ Morgan and the Organ Donors

07/09/23
Los Angeles, California

W/ Claud

07/15/23

| | |
| --- | --- |
| @ | The Salt Shed |
| | Chicago, IL |
| w/ | W/ Man on Man |

The Salt Shed

Chicago, IL

W/ Man on Man

07/17/23
Cleveland, Ohio

W/ Man on Man

07/18/23
Millvale, Pennsylvania

W/ Man on Man

07/19/23

| | |
| --- | --- |
| @ | Baltimore Soundstage |
| | Baltimore, Maryland |
| w/ | W/ Erin Markey |

Baltimore Soundstage

Baltimore, Maryland

W/ Erin Markey

07/21/23

| | |
| --- | --- |
| @ | History |
| | Toronto, Ontario |
| w/ | W/ cumgirl8 |

Toronto, Ontario

W/ cumgirl8

07/22/23
Montreal, Quebec

W/ cumgirl8

07/24/23

| | |
| --- | --- |
| @ | Royale |
| | Boston, Massachusetts |
| w/ | W/ cumgirl8 |

Boston, Massachusetts

W/ cumgirl8

07/25/23

| | |
| --- | --- |
| @ | Royale |
| | Boston, Massachusetts |
| w/ | W/ Pom Pom Squad |

Boston, Massachusetts

W/ Pom Pom Squad

07/27/23
Brooklyn, New York

W/ Morgan Bassichis

07/28/23
Brooklyn, New York

W/ Shamir

07/29/23
Brooklyn, New York

W/ HYD